Introducing the Loyola Social Justice Law Clinic
THE LOYOLA SOCIAL JUSTICE LAW CLINIC IS AN IMPRESSIVE AGGREGATION OF LOYOLA LAW SCHOOL'S CRIMINAL DEFENSE, IMMIGRATION, POST-CONVICTION RELIEF AND OTHER CLINICS FOCUSED ON IMPORTANT ISSUES UNDER ONE ROOF.
Mimicking the approach of a law practice with several specialities, the new combined space of the Loyola Social Justice Law Clinic provides students with a more realistic picture of life at a law firm. The move also allows Loyola's clinics to better support their clients through efficienices in shared services like support staff, case-management software and office amenities including conference rooms, student work labs, and a client waiting area.
The clinics housed with the new LSJLC have experienced significant growth since their respective launches.
"Loyola's mission has always focused on serving the underserved," said Cindy Archer, Aossicate Dean for Clinical Programs and Experiential Learning. "Our new Social Justice Clinic and expanded offerings give our students even more ways to gain practical experience while giving back to the community."
Loyola has long been committed to social justice, with more than 1 million pro bon hours donated to 50,000-plus clients since the schools's 1920 founding. The first ABA-accredited school in Calfironia to institute a pro bono requirement for graduation, Loyola'ss students annually donate about 60,000 hours of pro bon services.
21 LIVE CLIENT CLINICS
23,000 SQUARE FEET
1 MILLION+ PRO BONO CLIENTS ASSISTEND BY LLS CLINICS SINCE 1996
50,000+ PRO BONO HOURS DONATED ANNUALLY
2 DOZEN+ HUMAN RIGHTS MATTERS PENDING
120,000+ MILES TRAVELLED GLOBALLY
Valor Guide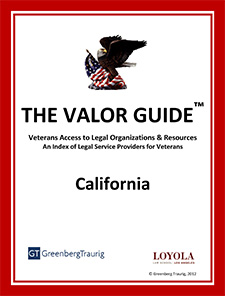 Loyola Law School produces and maintains several versions of The VALOR Guide: Veterans Access to Legal Organizations & Resources - An Index of Legal Service Providers for Veterans. Loyola students and alumni compile the information with the support of Greenberg Traurig LLP and Loyola's Externship Department. VALOR Guides are available for several regions: