Faculty Directory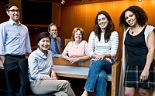 Looking for a faculty member? View our faculty directory.
Contact Us
Prospective Students
If you have any questions about the admissions process, contact the Office of Admissions:
Phone: 213.736.1074
Fax: 213.736.6523
Email: admissions@lls.edu
Employers
The Career Development Center at Loyola Law School offers a free job listing service to employers. To submit your job online, please click the following link: Job Listing Form
For questions, please contact:
Career Development Center
Loyola Law School, Los Angeles
919 Albany Street
Los Angeles, CA 90015
Email: careerservices@lls.edu
Phone: 213.736.1150
Fax: 213.385.5133
Career Development Center
Other Inquiries
If you have questions not addressed by the information in this Web site, send an e-mail message. It will be forwarded to the appropriate department.
Mailing Address:
Loyola Law School
919 Albany Street
Los Angeles, California 90015-1211
Phone: 213.736.1000
Fax: 213.380.3769
Ethics Reporting Line
LMU recognizes its obligation to its students, faculty, staff, and the friends and organizations with whom it does business to maintain the highest ethical standards in its operations. The confidential reporting tool supports LMU's commitment to integrity.
Website Inquiries
Please address questions or comments about the web site or problems with the web site to helpdesk.