LLS Alumnus and Founding President of the National American Board of Trial Advocates (ABOTA) Served in WWII
On March 16, 1945, Second Lieutenant Mark P. Robinson Sr., attached to 425 Bomber Squad of the American 15th Air Force, was piloting his B24 aircraft with his crew of nine over military targets in Hungary. They took a direct hit from anti-aircraft fire at Budapest and lost three of their four engines. Showing exceptional mastery of his aircraft, Robinson successfully crash-landed in a pasture near Zagreb. He and all of his crew survived but were immediately captured by the Nazis.
Undergoing brutal deprivations and abuse, Robinson and his crew were later rescued. Robinson was returned to the United States and rejoined with his family. Hospitalized for a short period, Robinson quickly went back to training. Though, Robinson never made it back to the battlefield as the war shortly ended.
Continuing his studies at Loyola Law School, Robinson graduated in 1950 and later became a judge and the founding president of the National American Board of Trial Advocates (ABOTA), one of the premier organizations for plaintiffs lawyers.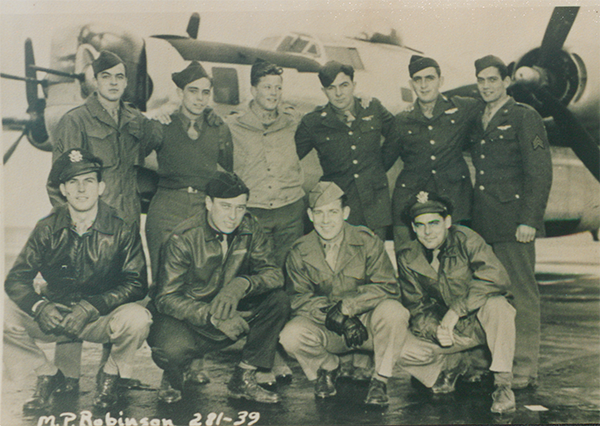 Mark P. Robinson Sr. (bottom left) pictured alongside his crew.