Wherever you are on your faith journey, LMU Loyola Law School Campus Ministry is here to help you explore who you are, strengthen your relationship with God, and grow into the person you are destined to become.
Our concern for the dignity of every human being as God's cherished child compels us to accompany everyone to discover the deepest longing in their lives.
We are dedicated to promoting the spiritual growth and faith formation of our students so that they will become agents of transformation for a more just and equitable world—thus, living the motto of Jesuit formation: to become men and women for and with others!
Campus Ministry provides pastoral and spiritual support for the Loyola Law School Community through pastoral counseling, liturgy, spiritual accompaniment, a chapel, and mission formation events.
Chapel of the Advocate
The Chapel of the Advocate serves as a sacred space for worship, personal prayer and contemplation. Visit Chapel of the Advocate.
Worship Services
Mass: Mondays and Wednesdays, 12:05 p.m., Chapel of the Advocate (suspended until further notice)
Special Feast Days, visit In Brief.
Sacrament of Anointing of the Sick: By appointment. Call (213) 736-8193
Sacrament of Reconciliation (Confession): By appointment. Call (213) 736-8193
Events
Special events are provided to assist in the formation in and reflection upon the mission of Loyola Marymount University and Loyola Law School. Visit In Brief for more information on upcoming law school events.
Office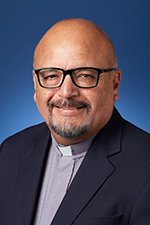 Fr. Wayne Negrete, SJ
Chaplain, Loyola Law School
Fritz B. Burns Academic Center, Room B230
Other Resources
LMU Campus Ministry and Graduate Student Ministry Resources are also available to LLS Students. Visit the LMU Mission and Ministry website for more information.