LMU Loyola Law School Campus Ministry serves in fostering a spiritual community for all and helping each person grow in faith to become an agent of transformation for a more inclusive, equitable, just, and merciful world.
LLS Campus Ministry provides pastoral and spiritual support for the Loyola Law School Community through worship services, faith-sharing groups, pastoral counseling, spiritual accompaniment, special events, a weekly newsletter, a chapel, and other programming.
Chapel of the Advocate
The Chapel of the Advocate serves as a sacred space for worship services, personal prayer, and contemplation. The chapel is located between Burns Hall and Donovan Hall. Visit Chapel of the Advocate.
Worship Services (during the academic year)
Mass:
Tuesdays at 12:05 p.m.
Thursdays at 12:05 p.m.
Holy Days and Special Feast Days, visit LLS Calendar.
Ignatian Examen:
12:00 p.m., Chapel of the Advocate
Sacrament of Anointing of the Sick:
By appointment. Call (213) 736-8193
Sacrament of Reconciliation (Confession):
By appointment. Call (213) 736-8193
Special Events
Special events are provided to assist in the formation in and reflection upon the mission of Loyola Marymount University and Loyola Law School. Visit LLS Calendar for more information on upcoming Loyola Law School events.
Chaplain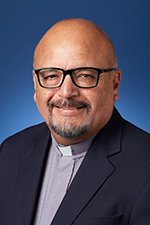 Fr. Wayne Negrete, SJ
Chaplain, Loyola Law School
Other Resources
LLS Student Affairs provides the Interfaith Prayer and Meditation Room in Casassa 405.
LMU Mission and Ministry also provides resources to students, faculty, and staff. Visit the LMU Mission and Ministry website for more information.