CalABLE is launched in December.
CalABLE is a savings and investment plan enabling individuals with disabilities to save for the future without jeopardizing their public disability benefits. As part of their launch activities, they held two kickoff events with California State Treasurer John Chiang and some of their community partners and CalABLE enrolles - one in Northern California and one in Southern California.
The Northern California launch on December 18, 2018, took place at the Ed Roberts Campus in Berkeley, California. The Coelho Center for Disability Law, Policy and Innovation was honored to host the Southern California launch on December 19, 2018.
California State Treasurer John Chiang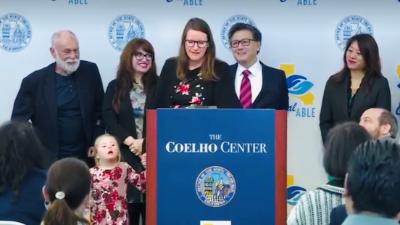 Photo description: Mother of the first enrolee of the CAL ABLE program speaks at the podium as four people stand behind her, including CJ Jones, Katherine Perez (Director of The Coelho Center), and California State Treasurer John Chiang.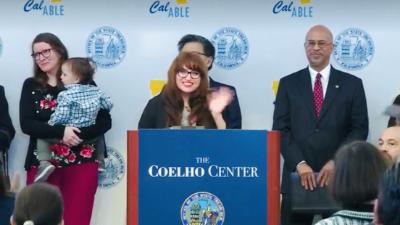 Photo description: Katherine Perez (director of The Coelho Center) stands at the podium waiving while three people stand behind her in the background in front of the CAL ABLE, State Treasury of CA, and Coelho Center step and repeat.