Because Loyola is centrally located, students have the opportunity to live in the heart of downtown or in the various suburbs of Los Angeles. Although Loyola does not offer on-campus student housing, the majority of our students live in downtown Los Angeles, West Hollywood, and the Miracle Mile area. You should make the decision as to where you would like to live depending on your budget and commute times. As with any large city, rental prices vary depending on location, size, and amenities.
Some popular rental search sites like Apartment Guide and Westside Rentals can help you with this process.
Below, are a few of the more popular housing options amongst our students.
Location/City

Commute*

Approximate Monthly Rental Rates**

Points of Interest

Burbank
20 mins.
$900 - $3,000
Metrolink accessible.
Culver City
15 mins.
$950 - $3,000
Metrorail accessible via Expo Line.
Downtown L.A.
5 mins.
$900 - $3,000
Campus Shuttle.
Glendale
25 mins.
$900 - $2,000
Metrolink accessible.

Hollywood & West Hollywood

10 mins.
$800 - $2,500
Metrolink accessible via Red Line.
Koreatown
10 mins.
$800 - $2,500
Metrorail accessible via Purple Line.

Loz Feliz & Miracle Mile

15 mins.
$950 - $2,500
Pasadena
20 mins.
$1,000 - $2,000
Metrorail accessible via Gold Line.
Santa Monica & Venice
30 mins.
$1,000 - $2,500
Metrorail Accessible via Expo Line and "Big Blue Bus".
Silver Lake
10 mins.
$800 - $2,000

South Bay:

El Segundo
Hermosa Beach
Manhattan Beach
Redondo Beach

40 mins.
$1,000 - $3,000
Metrorail accessible via Green Line.
Torrance
35 mins.
$1,000 - $2,500

Metrolink Accessible.
*Commute time without traffic.
**Rental rates based on studio - 2 bedroom apartment.
Please see our 2022 Housing Guide for more detailed information.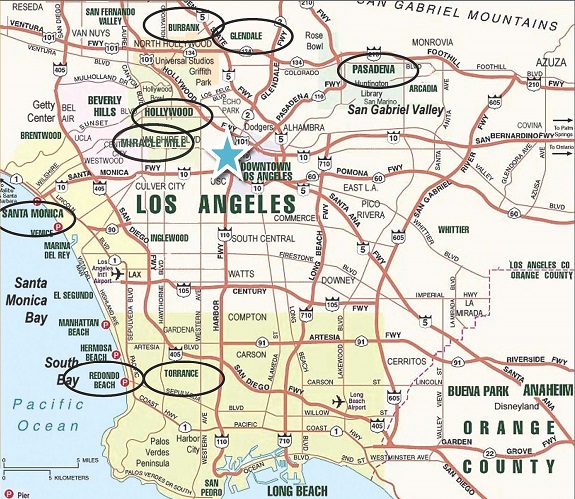 Roommates
Finding the ideal roommate is an important component of the housing search. Therefore, Loyola tries to make it as easy as possible for you to find another LLS student as a roommate. Many of our admitted students meet other admitted students at the various admissions events on campus and become roommates this way.
Loyola also has housing classifieds meant for students who either have a place and are looking for roommates or are looking for a place to live or share. This site is only accessible for students who have submitted their second seat deposit.