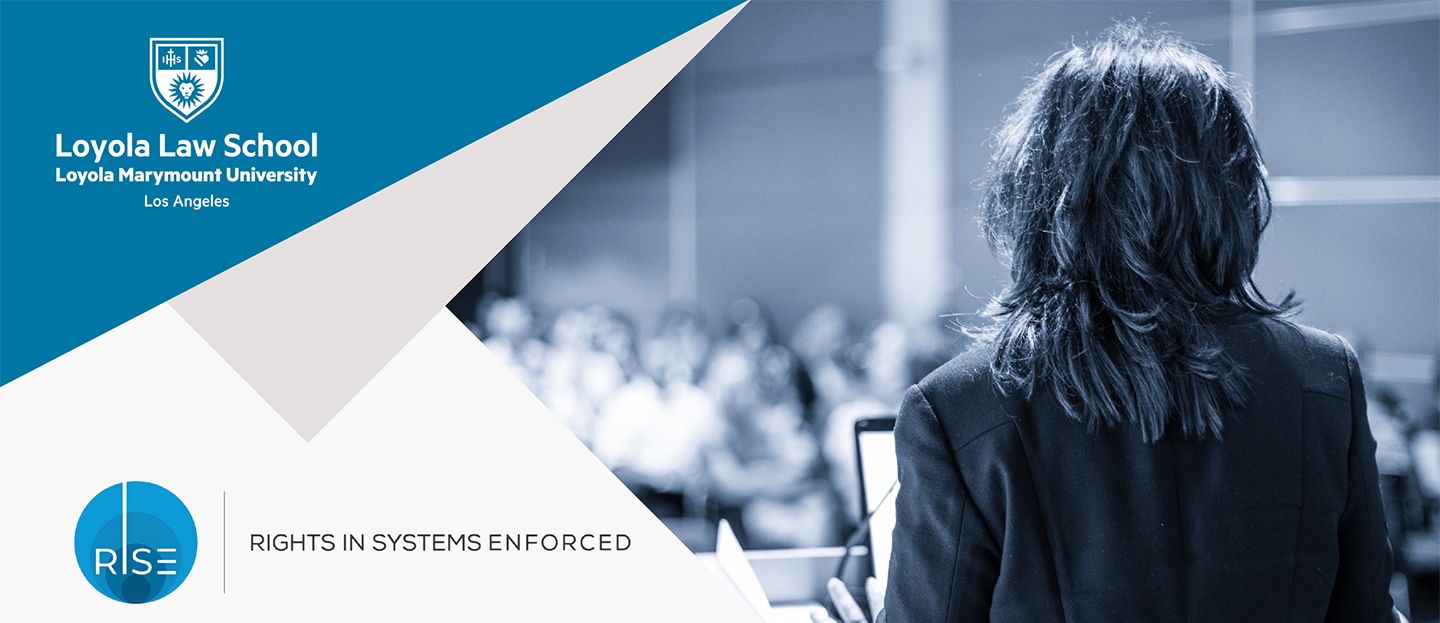 A RISE Clinic Symposium
Criminal Justice Reform: Protecting, Enforcing, and Advancing the Rights of Victims
April 20, 2022
12:00 PM - 5:00 PM
Loyola Law School, Los Angeles
Register Online
Criminal Justice Reform: Protecting, Enforcing, and Advancing the Rights of Victims
The Loyola Law School Rights in Systems Enforced (RISE) Clinic lead a dialogue with judges, prosecutors, defense attorneys, and survivors to identify solutions that are culturally and socially responsive to all crime victims.
April 20, 2022
1:00 PM - 5:00 PM
Loyola Law School
Robinson Courtroom - G102
919 Albany St. Los Angeles, CA 90015
Moderators
Stephanie Richard, Esq.
Director, RISE Clinic
Paloma E. Bustos, MSW
Crime Survivor Services Program Manager, RISE Clinic
Anabel Sanchez, Esq.
Staff Attorney, RISE Clinic
Ms. Sanchez grew up in Los Angeles and was the first in her family to graduate from UCLA with a bachelor's degree in Sociology. Upon graduation she began working for a local homeless shelter in skid row, the Union Rescue Mission. Since her employment at the Union Rescue Mission she focused her career towards assisting underprivileged communities. Ms. Sanchez holds a law degree from the Sandra Day O'Connor College of Law at Arizona State University and was recently admitted to practice law in California. Ms. Sanchez recently accepted a position as a Staff Attorney for The Rights in Systems Enforced (RISE) Social Justice Law Clinic at Loyola Marymount Law School. She brings over 16 years of experience in homeless services, non-profit management and a trauma informed approach to lawyering.
Sponsored By
Loyola RISE materials were produced under Grant Nos. 2018-V3-GX-K018 and 2020-V3-GX-K022, awarded by the Office for Victims of Crime, Office of Justice Programs, U.S. Department of Justice. The opinions, findings, conclusions or recommendations expressed in this Project are those of the author(s) and do not necessarily represent the official position or policies of the U.S. Department of Justice.
For more information about this national rights enforcement initiative, visit the RISE Project website