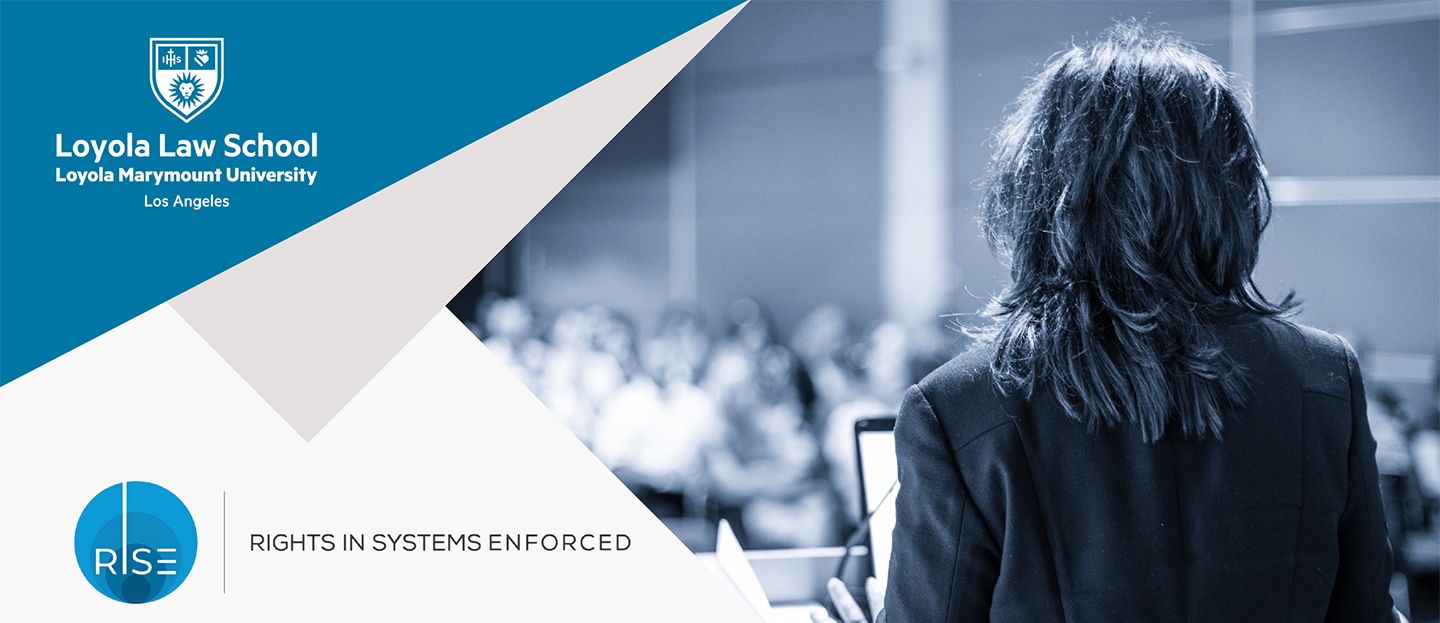 A RISE Clinic Symposium
Criminal Justice Reform: Protecting, Enforcing, and Advancing the Rights of Victims
April 20, 2022
12:00 PM - 5:00 PM
Loyola Law School, Los Angeles
Register Online
Criminal Justice Reform: Protecting, Enforcing, and Advancing the Rights of Victims
The Loyola Law School Rights in Systems Enforced (RISE) Clinic lead a dialogue with judges, prosecutors, defense attorneys, and survivors to identify solutions that are culturally and socially responsive to all crime victims.
April 20, 2022
1:00 PM - 5:00 PM
Loyola Law School
Robinson Courtroom - G102
919 Albany St. Los Angeles, CA 90015
Speakers
Angela Viramontes
Branch Chief, Riverside Federal Public Defenders Office
Angela Viramontes is the Branch Chief of the Federal Public Defender's Office in Riverside, California that covers Riverside and San Bernardino counties. In addition to supervising the office, Ms. Viramontes represents indigent individuals charged with violating federal criminal statutes by handling all stages of federal criminal trial matters in the district court, as well as post-conviction matters. Prior to joining the Federal Public Defender's Office, Ms. Viramontes represented survivors of domestic violence and human trafficking in immigration proceedings. Ms. Viramontes received her B.A. and J.D. from U.C. Berkeley.
Catherine Clark Perkins
Catron Academy Learning Institute
Chief Executive Officer
Cat Clark-Perkins is currently a Case Manager at Timelist Group in South Los Angeles. During her teen years, she was sexually assaulted at gunpoint. This was the beginning of her life-battling trauma. Cat is a Certified Peer Reentry Relationships Specialist and a Domestic Violence Counselor, Advocate, and Trainer. She is also a Crime Survivors for Safety and Justice Los Angeles Core Leader.  In addtion, Cat is an entrepreneur and Life Coach.  Cat is a founding member of the Sister Circle which focuses on addressing issues that affect women living in low-socio economic communities. Cat advocates and sits on the board of directors for the United Black Family Scholarship Foundation.
Chivas J. Mays
Housing Service Manager
Chivas Mays has worked with victims of crime for 23 years, and also has personal lived experience as a survivor. Chivas was nominated Advocate of the Year in 2014 through the California Partnership to End Domestic Violence, and also received the Purple Ribbon Award for Domestic Violence in 2021. Chivas is currently pursuing her Bachelors of Science in Criminal Justice. As a survivor of crime, Chivas has a burning passion to remove the stigma being associated with domestic violence and sexual assault survivors. Chivas's personal mantra is " We are not survivors we are warriors."
Chrashawn Jackson
Deputy Public Defender
Los Angeles County Public Defender
Chrashawn Jackson has served as Deputy Public Defender for over two decades in Los Angeles County. She has been a trial attorney providing legal representation in cases ranging from misdemeanors offenses to murders. Most recently, she has led the development of LA County Superior Court's first Human Trafficking Diversion Court.
Honorable Curtis A. Kin
Superior Court Judge
Los Angeles County
Honorable Curtis A. Kin was appointed to the Superior Court in Los Angeles County in 2013. Prior to his judicial appointment, Judge Kin was a prosecutor with the U.S. Attorney's Office for the Central District of California, where he served as Chief of Criminal Appeals, Chief of General Crimes, and Chief of Domestic Security. He has also served as instructor to other judicial officers throughout the state for continuing judicial education. In addition, Judge Kin is an Adjunct Professor at Loyola Law School, where he teaches Advanced Trial Advocacy.
Flor Molina
Lead Advocate
Flor was trafficked from her village outside of Puebla, Mexico in 2001, and enslaved in a sweatshop in Los Angeles County. She is a founding member of the Survivor Advisory Caucus, a leadership development program with the Coalition to Abolish Slavery and Trafficking (CAST). Flor is also a member of the U.S Advisory Council on Human Trafficking, a committe comprised of survivor leaders entrusted with providing recommendations to the President's Interagency Task Force on anti-trafficking policies. In addition, Flor has provided critical testimony for three bills enacted in California to prevent human trafficking.
Guillermo R. Santiso
Assistant Head Deputy, Sex Crimes Division,
Los Angeles County District Attorney's Office
Gillermo Santiso has been a deputy district attorney for 17 years for the Los Angeles County District Attorney's Office. From 2014 to 2021, he prosecuted sex trafficking cases involving minors and adults. In addition to his prosecutorial duties, he was also involved in providing trainings to other prosecutors, law enforcement, community groups, and students.
Jess Torres
Consultant, Survivor Leadership Program Manager, Coalition to Abolish Slavery & Trafficking Los Angeles
Jess Torres (they/them) is a Trans-Indigenous educator, policy-maker, and community development specialist who has been active in movements for racial, gender and transformative justice for over 15 years. Torres served as the Survivor Leadership Program Coordinator at the Coalition to Abolish Slavery and Trafficking (CAST) co-chairing the National Survivor Network, a collective of over 300 survivor leaders spanning across the U.S. and overseeing the LA-based survivor empowerment group Resilient Voices. Currently, Jess is an expert trainer with Rising International and the Prevention and Addressing Child Trafficking (PACT) SoCal Regional helping counties participating in the CSEC Opt-in Program to develop interagency protocols for case management, planning, and delivery of services.
Jimmy Lopez
Survivor/Advocate
Resilient Voices - Coalition to Abolish Slavery and Trafficking (CAST) LA
Jimmy Lopez is a survivor of child labor trafficking. He fled Honduras to avoid being recruited by gangs at 14. He was trafficked twice in the US, in a factory and then in a restaurant. He is now a survivor advocate for other children who have had similar experiences. He has spoken at the United Nations, the White House, and US Congress. He has trained judges and service providers on the dynamics of child labor trafficking. He has also travelled internationally and is recognized as a young leader in the Anti-Trafficking movement.
Mack E. Jenkins
Chief of Public Corruption & Civil Rights Section
U.S. Attorney's Office
Mack Jenkins, a graduate of Yale Law School, joined the U.S. Attorney's Office in 2008. He was appointed Chief of the Public Corruption and Civil Rights Section in 2017, after previously serving as Deputy Chief. He personally prosecutes and supervises impactful cases aimed at preserving the government's integrity, reforming corrupt behavior, and protecting the constitutional rights of citizens. This includes the investigation and prosecution of corrupted public officials, civil rights violations by federal and local law enforcments, hate crimes, violence against protesters, election integrity, FARA violations, and kleptocracy.
Maggy Krell
Special Advisor to the Attorney General
California Department of Justice
Maggy Krell is nationally recognized as a legal trailblazer who has taken on impactful cases as a criminal prosecutor and human rights lawyer. Krell was a prosecutor for 15 years, serving as Supervising Deputy Attorney General in California and cross-designated as a Special Assistant United States Attorney. Krell prosecuted high-profile cases including murder, organized crime, human trafficking, domestic violence and white-collar offenses. Krell's most notable accomplishments stem from her tireless efforts to combat human trafficking and protect and empower survivors, including her ground-breaking prosecution of the sex-trafficking website, Backpage.com and her pro-bono representation of survivors while in private practice.
Mary Elaine Tennant
Deputy Public Defender
Los Angeles County Public Defender
Mary Elaine (Lainie)Tennant is a Head Deputy at the Law Office of the Los Angeles County Public Defender where she proudly manages the East District Branch. For Elaine, the most rewarding part of her job is helping vulnerable clients receive favorable outcomes in their cases. In her 30 years as a Public Defender, she has worked in felony, misdemeanor, and juvenile courts and she has tried over 100 cases.
Pamela Michell
Resilient Voices Survivor Leader
Resilient Voices -CAST LA
Pamela Michell is a survivor of domestic violence and labor trafficking. Prior to her victimization, Pamale was a Director of Development and Fundraising. In April 2009, her perpetrator was sentenced to 30 years in prison and she has since become an active voice for suvivors of violent crimes. This has included making trauma-informed policy recommendations to government officials and providing testimony in Washington D.C. and Sacramento. In addition, she has trained legal, medical and academic professionals on recognizing the signs of exploitation and connecting victims to supportive services.
Paul Kim
Deputy District Attorney, Los Angeles District Attorney's Office Organized Crime Division
Paul is a career prosecutor currently assigned to the Organized Crime Division, Hate Crimes Unit. In his capacity, Paul prosecutes hate crimes involving great bodily injury or death, complex cases involving organized hate groups and media cases. He also prosecutes human trafficking cases involving forced labor. In addition, he trains the LADA Charge Evaluation Unit and local law enforcement partners. Paul also participates in outreach with community-based partners and stakeholders to ensure their voice are heard at the LADA's office on matters pertaining to hate crimes and labor trafficking prosecutions.
Teresa Sullivan
Superior Court Judge
Los Angeles County
Honorable Teresa Sullivan, an alumni of Loyola Law School, assumed her position as Superior Court judge in 2013. Prior to her judicial appointment, she had served as a Deputy District Attorney in Los Angeles County for 14 years. She worked in both the Rampart Investigation Unit, Hardcore Gang Unit as well as the Family Violence Division, Sex Crimes Unit. Judge Sullivan established D.R.E.A.M. Court in 2015 for victims of sex trafficking in the foster care system. It was the first collaborative court in the nation to address the unique needs of commercially sexually exploited children. In 2016, Judge Sullivan received recognition as Woman of the Year from California State Legislator Senator Carol Lui.
Tiffiny Blacknell
Special Advisor to George Gascón
Community and Government Liaison
Interim Director of the Bureau of Victim Services
Los Angeles County District Attorney
Tiffiny Townend Blacknell is a native of Los Angeles and a graduate of USC Law School. She worked as a Deputy Public Defender for over 18 years and has handled misdemeanor cases, juvenile adjudications as well as complex serious felonies. Tiffiny is passionate about criminal justice reform and appears regularly in panel discussions surrounding criminal justice issues.
Sean Kennedy
Director, Center for Juvenile Law and Policy
Associate Clinical Professor
Sean Kennedy joined Loyola Law School in 2014 as Executive Director for its Center for Juvenile Law and Policy (CJLP). Prior to this appointment, Kennedy was the Federal Public Defender for the Central District of California from 2006 to 2014 and has also served as Chief of the Federal Public Defender Capital Habeas Unit. As an adjunct professor for more than 15 years, Kennedy has taught Appellate Advocacy and the Death Penalty Law Seminar at the Law School.
Serafín Serrano
Crime Survivors for Safety and Justice Chapter Coordinator
Serafín Serrano is a graduate of the University of California, Irvine with a Bachelor's Degree in Psyhchology and Social Behavior. Serafín has devoted his life's work to social justice, mentorship, and community flourishment. As Chapter Coordinator for Crime Survivor for Safety and Justice, his audacious intention is to advocate for public policies and practices that are equitable, inclusive, and tranformative. His ongoing committment and passion for his work is derived from the loss of his mentor/brother, Theodore, who was violently killed in Los Angeles in 1986 and, most recently, the murder of his nephew, Ernie Teddy Serrano, at the hands of the Riverside County Sheriffs Department.
Wendy Barnes
Coordinator, Human Trafficking Response Program
CommonSpirit Health
Wendy Barnes is Coordinator of the Violence and Human Trafficking Prevention & Response Program at CommonSpirit Health. Wendy provides education to health care professionals across the country based on her own encounter with health care providers during her decade-long experience as a trafficking victim. Wendy is a member of the National Survivor Network and has written a memoir, "And Life Continues: Sex Trafficking and My Journey to Freedom."
Honorable Wendy Segall
Superior Court Judge
Los Angeles County
Honorable Wendy Segall, a Loyola Law School Alum, assumed office with the LA County Superior Court on January 7, 2019. Judge Segall has over 25 years of experience as Deputy District Attorney and she is the leading expert in prosecuting stalkers who target celebrities, judges, and intimate partners. Between 2008 to 2016, she was the sole prosecutor assigned to the Target Crimes Division's Stalking and Threat Assessment Team (STAT), where she handled cases ranging from high profile celebrity stalking, cyberstalking, to murder and sexual assault arising from stalking activities. Judge Segall is currently assigned to the Clara Shortridge Foltz Criminal Justice Center.
Moderators
Stephanie Richard, Esq.
Director, RISE Clinic
Professor Stephanie Richard is the Director of Loyola Law school's Rights in Systems Enforced (RISE) clinic. RISE trains and engage students in trauma-informed direct representation of survivors of violent crime who seek to assert their rights in state or federal criminal or immigration enforcement systems or who require related legal assistance in the civil justice system. Prior to joining Loyola, Richard served as the Policy & Legal Services Director at the Coalition to Abolish Slavery & Trafficking for almost 15 years where she led and expanded innovative programs in human trafficking services, policy and training. She also served as policy counsel to the National Survivor Network to help ensure survivors voices were heard as policy experts. Her publications include, e.g., State Legislation and Human Trafficking: Helpful or Harmful? in University of Michigan Journal of Law Reform and Expanding Protections for Guest Workers Benefits Businesses in the peer-reviewed Business & Human Rights Journal. Richard regularly provides testimony and guidance to, e.g.: the U.S. Departments of Labor, Justice and Homeland Security; state legislatures and attorneys general offices; the Judicial Council of California; and the Uniform Law Commission.
Paloma E. Bustos, MSW
Crime Survivor Services Program Manager, RISE Clinic
Paloma Bustos currently serves as a Crime Survivor Services Program Manager for the Rights in Systems Enforced ("RISE") Clinic at Loyola Law School with Loyola Marymount University. She holds a Master's in Social Work and has culminated ten years of experience working directly with victims of crime. In her role with the RISE Clinic, she is responsible for supporting victims of crime by providing access to safety and resource to address the emotional and physical needs of the trauma and stress associated with their experience and to further the purpose of legal representation. Prior to joining RISE, she was the Program Manager for Casa de la Familia responsible for overseeing their partnership with the Los Angeles Police Department (LAPD) as part of the Domestic Abuse Response Team (DART), a multidisciplinary crisis response team that partners police officers with community-based advocates to provide immediate crisis intervention and follow-up services to domestic violence victims and their respective families. In addition, she provided training to law enforcement on signs and symptoms of abuse in addition to education on trauma-informed care utilize for appropriate response to survivors.
Anabel Sanchez, Esq.
Staff Attorney, RISE Clinic
Ms. Sanchez grew up in Los Angeles and was the first in her family to graduate from UCLA with a bachelor's degree in Sociology. Upon graduation she began working for a local homeless shelter in skid row, the Union Rescue Mission. Since her employment at the Union Rescue Mission she focused her career towards assisting underprivileged communities. Ms. Sanchez holds a law degree from the Sandra Day O'Connor College of Law at Arizona State University and was recently admitted to practice law in California. Ms. Sanchez recently accepted a position as a Staff Attorney for The Rights in Systems Enforced (RISE) Social Justice Law Clinic at Loyola Marymount Law School. She brings over 16 years of experience in homeless services, non-profit management and a trauma informed approach to lawyering.
Sponsored By
Loyola RISE materials were produced under Grant Nos. 2018-V3-GX-K018 and 2020-V3-GX-K022, awarded by the Office for Victims of Crime, Office of Justice Programs, U.S. Department of Justice. The opinions, findings, conclusions or recommendations expressed in this Project are those of the author(s) and do not necessarily represent the official position or policies of the U.S. Department of Justice.
For more information about this national rights enforcement initiative, visit the RISE Project website