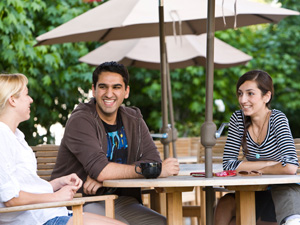 Admitted Students
Welcome admitted students! This section of the website is the best source for the latest information and updates from the Office of Admissions.
Using the links to the left, you can check for upcoming admitted student events, get tips on housing options in Los Angeles, explore our student and faculty blogs, get to know our Student Ambassadors and learn more about all the student organizations on campus.
Now, you are one step closer to joining the multidimensional community that is Loyola Law School. If you haven't visited campus already, sign up for a tour guided by one of our students.
Be sure to attend one of our Student Host Days or Preview Day to get familiar with the campus and experience a typical day in the life of a Loyola student. At a Student Host Day, with a current LLS student as your guide, you will take a tour of the campus and attend a first-year class. Your day also includes an informal luncheon with other prospective and current students, faculty and administrators.
Preview Day is the largest prospective student event at Loyola! The day includes campus tours, a mock law class (yes, you may be called on!), and Q&A panels with faculty and current students. You can chat with faculty about their areas of expertise and learn about Loyola's academic concentrations. You will also meet current students and get answers to your questions about studying, student organizations, career opportunities, and more.
We know that choosing a law school can be a very difficult, but critically important decision. Our admitted students are poised for success and our community is committed to your legal education. If you have any questions, we are here to help! Request an appointment to meet with an admissions counselor at your earliest convenience.