Building Her Future, One Dream at a Time
Earner & Learner Toni Washington
Toni Washington has many ambitions. She has a big-time job at a global food company. She earned her MBA in the evenings. She runs several side businesses, including an apparel company and a dance education nonprofit. All while building a family with three kids — the youngest of whom just turned nine months.
Now, she's adding another ambition to her diverse portfolio: lawyer.
As a current student at LMU Loyola Law School, Washington is receiving an education that reflects her hybrid talents and ambitions — one that will prepare her to make a bigger impact at the intersection of business and law.
Loyola Law School's Hybrid JD program is designed for people like Toni Washington. LLS creates a new kind of lawyer for a new kind of world — an elite hybrid of real-world experience with a world-class legal education, prepared to take on today's complex challenges with meaning and purpose.
Washington has already achieved success, but her journey is just getting started. And with a hybrid JD, she's empowering herself to reach higher in any industry she chooses.
A successful first career. Then, an epiphany.
Washington moved west from Michigan and made it in Los Angeles. She's a marketing exec at Mead Johnson Nutrition, one of the world's largest manufacturers of infant formula, and loves her job. Ever the renaissance woman, she launched several of her own businesses along the way. Her company Missfit Activewear designs, manufactures, and distributes high-performance fitness apparel. The Dance Capital is a nonprofit dedicated to performance arts and health education in underserved communities. She never hesitates to follow the spark of her passions.
While taking a law class in her evening MBA program, she felt a big spark. "I had an epiphany: This is me. This is going to be my second career."
For someone with diverse dreams, she realized the power of law to make just about anything possible. "One thing that I love about law: You can do so much." she says. "Lawyers have the opportunity to be a part of any industry. With a business background, a law degree puts me in a pretty powerful position in entertainment or health care, or whichever industry I choose."
From feeling out of place to feeling like a lawyer
When considering law school, Washington had doubts familiar to many prospective students. "I've been out of school, out of undergrad for a while," she thought. Would she be the oldest person in the class? With her family and career, would she be able to dedicate enough time and focus — and be able to keep up with her peers?
At LLS, she found community and a real sense of belonging. "People come from so many walks of life and most of them are similar to me — they have families, they have full-time jobs. They're balancing and juggling, just like I am, but they're dedicated. And they know they want this. We kind of are all on equal footing, in terms of everyone's different life experiences and all that they do every day in their lives."
As she settled into her studies, she started to feel like she belonged. She noticed herself keeping up with her professors and contributing to discussions with ease. Taking one online class, her husband was walking past her home office when he overheard her talking about a case to one of her LLS professors.
"Wow," her husband said afterward. "You sound like a lawyer."
"I wear my Blackness and my womanhood with pride. I want others to see me — and believe they can accomplish great things."

Setting an example for those who look like her
"I wear my Blackness and I wear my womanhood with pride," Washington says. "That's me. I want others to see me and to believe that they can accomplish great things."
Washington puts these words into action as a mentor in Loyola's Young Lawyers Program, which connects LLS students with youth from South L.A. high schools. "I share my experiences with them so they can see what brought me here, how I got scholarships, how I got grants," she says. Beyond practical advice, she sets a powerful example.
"They hear my story," she says. "Someone who looks like them — and has an MBA. Who's an entrepreneur. Who has a family and who's going to be a lawyer. I hope when they see me, they can see themselves."
Washington has been grateful for her LLS professors, who have gone above and beyond to give her that same sense of support and community. "My professors have taken the time out of their lives to reach out, to mentor me, to give me advice, whether it's on a brief or a presentation. They've really shown that they're there for me."
"The biggest advice I give to the next generation: If you have support, a sense of community, you can do anything."
About LMU Loyola Law School
Located on an award-winning Frank Gehry-designed campus in downtown Los Angeles just minutes away from Southern California's legal, financial and entertainment epicenters, Loyola Law School is home to prominent faculty, dedicated students and cutting-edge programs. The law school strives to instill in students the knowledge they need to excel on their chosen paths. It dedicates itself to preparing students for the rigors of practice with an extensive portfolio of practical-training opportunities, a 19,000-strong alumni network and a focus on social justice. The LLS JD Evening program is the No. 1 evening JD program in the West for over a decade, as ranked by U.S. News & World Report.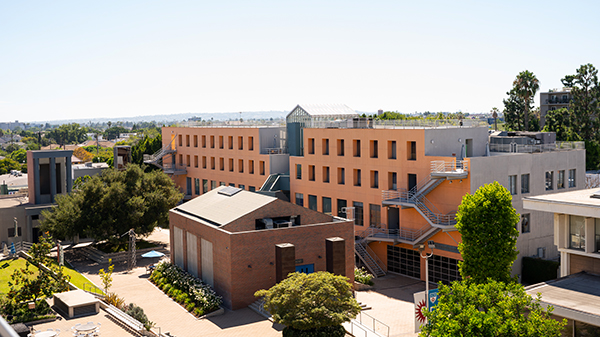 Ready to take the next step of your academic journey? Let's connect.
Loading...