Raising the Bar at Disney and in the Classroom
Mogul Maker Fabricio Lopez
Fabricio Lopez '04 — assistant general counsel at The Walt Disney Company — admires lawyers who earned their degree through an evening law program. "If you can manage to be good at your job and do well at night school, that tells me a lot about your work ethic and your commitment," he says. "The last two general counsels at Disney both went to law school at night."
Lopez knows the drive it takes to walk this path. He took paralegal classes while learning English. He worked full time while attending LMU Loyola Law School in the evenings.
Today, he's a lawyer by day; law professor by night. Lopez gives back through Loyola Law School's Hybrid JD program, teaching and preparing a new kind of lawyer for a new kind of world — an elite hybrid of real-world experience with a world-class legal education, ready to take on today's complex challenges with power and purpose.
For Lopez, hybrid means doing many different things — in his case, law, pro bono work and teaching — and going all in on all of them.
Following the footsteps of his father
Growing up in Ecuador, Lopez looked up to both his father, a lawyer and a judge, and his mother, a teacher. He considered both professions, but decided to follow his father's path and pursue law. He earned his undergraduate degree, and then everything changed — he met and fell in love with the woman who would become his wife, and they relocated to her hometown of Los Angeles.
Lopez was determined to work in the legal field, but immigrating to the U.S. presented challenges. He had to learn English, for starters. After applying to law schools, he was told that his degree from Ecuador wasn't transferable, and he would have to start over as an undergraduate.
He wasn't daunted. He perfected his English, enrolled in college and earned a paralegal certificate. He landed a paralegal job at Disney, and told his boss he planned to be a lawyer and would enroll in Loyola Law School's JD Evening program. He knew he might have to leave Disney in order to fulfill his dream of becoming a lawyer.
"Companies like Disney don't hire lawyers who just graduated from law school," he says. But after getting his JD from Loyola Law School, Disney hired him as a lawyer, and he's been there for nearly 25 years.
At Disney, Lopez helps navigate immigration law, employment eligibility and child labor laws. For a company with over 200,000 employees, this is no small task. "I advise all Disney productions regarding interpretation of laws and development of companywide policies regarding entertainment-related child-labor issues," Lopez says. "My immigration law practice is diverse. I may help getting a work visa for an actor for a movie, a producer for a TV show, a finance director, or a software engineer who develops streaming technology."
"Young Latinos feel pressure to work for a nonprofit. I tell them: Go work for a big law firm or a company — and then do pro bono work. Don't miss the opportunity to have a bigger influence in the world."

Becoming more like his mother, the teacher
Reflecting on his journey, Lopez realizes he's a hybrid of his father and his mother. "You know, it's funny," he says. "This is the first time I'm making that connection. Teaching and being a lawyer."
As professor at LLS, he discovered he loves teaching as much as practicing law. Teaching also sharpens his legal skills. "It forces me to look deeper; to rethink about ways to communicate and explain concepts to my students. I use those tools to explain things to my clients, who are often not lawyers, but who need help to get the best people on their projects."
At a seminar years ago, an instructor said something that stuck with him. "Picture a bicycle with two tires," he says. "One tire represents your expertise, and one tire represents your ability to work with people. There's no question that if you graduate from law school and work in the field, the expertise tire will grow. But you have to pay attention to that other tire. You might be a genius, but you can't also be a jerk. If you have one tiny tire, you won't get anywhere."
As a professor at LLS, Lopez is a fountain of this kind of practical advice. "Most of my class is how you apply the law to real situations," he says. "And I give tips of the week, from how to take notes when you're talking with a client to how to communicate better over a Zoom meeting."
Go big — and raise the bar for everyone
When he mentors aspiring Latino lawyers, he tells them to go all in on their ambitions and their passions. "Young Latino law students feel this pressure to work for a nonprofit or a pro bono organization," he says. "I tell them: Go work for a big law firm or a company — and then do pro bono work. Don't miss the opportunity to have a bigger influence in the world. I'd rather have a Latino lawyer who is a senior partner at a big law firm, supporting the work of the Loyola clinic. When we have a legal profession that reflects the diversity of our society, that's a win all around."
As an immigrant, Lopez knows how challenging the legal process can be, so he uses his expertise to help others navigate the system. He co-chairs an internal pro bono immigration program at Disney and volunteers for several organizations, including Kids in Need of Defense (KIND) and Public Counsel. "I love what I do at Disney and I'm thankful that the company and its general counsel are supportive of their lawyers doing pro bono work," he says. "It's another way we can make a difference in people's lives."
Lopez goes all-in as a teacher, a lawyer and a volunteer. That's what it means to be an elite hybrid — and that's what he teaches at LLS. "You don't have to give up your career to go to law school," he says. "You can keep your career going and get your education. You can win on both sides."
About LMU Loyola Law School
Located on an award-winning Frank Gehry-designed campus in downtown Los Angeles just minutes away from Southern California's legal, financial and entertainment epicenters, Loyola Law School is home to prominent faculty, dedicated students and cutting-edge programs. The law school strives to instill in students the knowledge they need to excel on their chosen paths. It dedicates itself to preparing students for the rigors of practice with an extensive portfolio of practical-training opportunities, a 19,000-strong alumni network and a focus on social justice. The LLS JD Evening program is the No. 1 evening JD program in the West for over a decade, as ranked by U.S. News & World Report.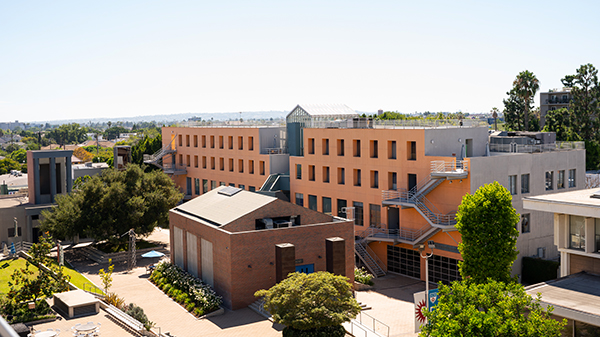 Ready to take the next step of your academic journey? Let's connect.
Loading...