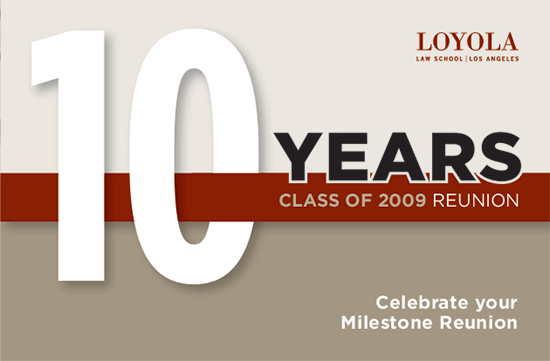 David P. Fuad F. Phillip Hosp Vivian Carrasco Hosp

2009 Class Reunion
Message from the Reunion Class Committee
Welcome back Loyola Law School Class of 2009!
On Saturday, June 1, 2019, please join the members of the class of 2009 for our 10 year reunion.
We hope you (and your guest) plan on attending. Let's reconnect with classmates, professors and reminisce about our law school days.
Saturday, June 1, 2019
Loyola Law School
5:00 p.m. Mass (optional)
5:30 p.m. State of the Law School: A Conversation with Dean Michael Waterstone (optional)
6:00 - 9:00 p.m. Individual Class Reunion Gatherings
Tickets:
$80/person
Each ticket includes hearty hors d'oeuvres, dessert and hosted bar (spirits, wine and beer).

REGISTER
Coming from out of town? If you are staying for the weekend, visit lls.edu/localhotels for a list of hotels in Downtown Los Angeles.
Attire: Cocktail Attire

We look forward to seeing you at the reunion.
2009 Reunion Class Committee
David P. Fuad, Co-Chair
F. Phillip Hosp, Co-Chair
Vivian Carrasco Hosp, Co-Chair
Jeffrey Bell
Meryl Chambers
Stacey M. Davy
Susan E. Ehring
Raymond Hekmat
Siraj Husain
S. Alec Johnson
David B. Jonelis
Usama Kahf
Margaret Karakashian
Komal Mehta
Neelam Molnar
Cassie Palmer
Cindy Panuco
Michelle Raji
Anya Salehi
Natalie J. Schachner
Bill Shafton
Jessica Shpall Rosen
Gregory Strausberg
Carolyn L. Tan
Ian V. Yanniello
Questions? Please contact Advancement at 213.736.8153.