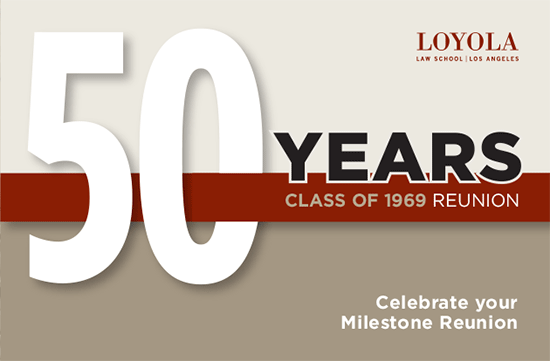 Larry R. Feldman F. Phillip Hosp Richard E. Troop
1969 Class Reunion
Message from the Reunion Class Committee Co-Chairs
Welcome back Loyola Law School Class of 1969!
On Saturday, June 1, 2019, please join the members of the class of 1969 for our 50 year reunion.
We hope you (and your guest) plan on attending. Let's reconnect with classmates, professors and reminisce about our law school days.
Saturday, June 1, 2019
Loyola Law School
5:00 p.m. Mass (optional)
5:30 p.m. State of the Law School: A Conversation with Dean Michael Waterstone (optional)
6:00 - 9:00 p.m. Individual Class Reunion Gatherings
Tickets:
$80/person
Each ticket includes hearty hors d'oeuvres, dessert and hosted bar (spirits, wine and beer).

REGISTER
Attire: Cocktail Attire
Coming from out of town? If you are staying for the weekend, visit lls.edu/localhotels for a list of hotels in Downtown Los Angeles.
We look forward to seeing you at the reunion.
1969 Reunion Class Committee
Larry R. Feldman, Co-Chair
F. Phillip Hosp, Co-Chair
Richard E. Troop, Co-Chair
Patrick M. Kelly
John C. Martin
Questions? Please contact the Alumni Office at 213.736.8153.