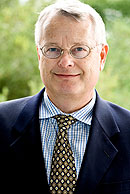 Professor John Nockleby, director of the Civil Justice Program and the Journalist Law School , has been a professor at Loyola Law School since 1989. Nockleby received his BA from the University of Montana and his JD from Harvard Law School, where he served as an editor of the Harvard Law Review. After graduating, Nockleby clerked for the Honorable Francis D. Murnaghan Jr. of the United States Court of Appeals for the Fourth Circuit. Before joining Loyola Law School, he spent several years as a civil rights lawyer in North Carolina and California, focusing extensively on discrimination, constitutional and tort issues. From 1993-95, Nockleby served as a visiting professor at Harvard Law School, and from 1995-2000, he helped create and teach an innovative first year program at Harvard. Nockleby has also taught at the Northeastern University School of Law, the Southwest Institute of Law and Political Science in Chongqing, China, and Loyola's summer program in Costa Rica . Professor Nockleby is interested in the impact of new technologies upon privacy, the First Amendment, and Torts. His recent work includes a Torts textbook, forthcoming in 2007; several essays on the First Amendment commissioned for the Encyclopedia of America Civil Liberties, forthcoming in 2006; "What's a Jury Good for?," published in Voir Dire magazine; " 100 Years of Conflict: The Past and Future of Tort Retrenchment," published in the Loyola Law Review; and an online textbook entitled CyberPrivacy, published by the Berkman Center of Harvard Law School.
Other key JLS faculty include:
Ellen Aprill, John E. Anderson Chair in Tax Law. Specialties: intersection of tax and politics.
Jeffery Atik. Specialties: cryptocurrencies.
Samantha Buckingham, director, Juvenile Justice Clinic. Specialties: juvenile law and criminal procedure.
Brietta R. Clark, associate dean for faculty. Specialties: Health care law and access.
David Glazier, former commander, U.S. Navy. Specialties: law of war, military commissions/detainees, war criminals.
Michael Genovese, president, World Policy Institute at LMU. Specialties: presidency & leadership, presidential elections, law and presidential power.
Stan Goldman, director, Center for the Study of Law & Genocide. Specialties: criminal law, evidence and genocide law.
Fernando Guerra, Director of the Thomas and Dorothy Leavey Center for the Study of Los Angeles at LMU. Specialties: electoral politics.
Justin Hughes, former senior adviser to the Undersecretary of Commerce for IP in the Obama Administration. Specialties: international trade, intellectual property.
Dan Jacobs, author, "BP Blowout: Inside the Gulf Oil Disaster." Specialties: environmental law, sustainability.
Allan Ides, former U.S. Supreme Court clerk. Specialties: constitutional law, presidential power. Specialties: sustainability.
Sean Kennedy, Kaplan & Feldman Executive Director, Center for Juvenile Law & Policy and former Federal Public Defender. Specialties: death penalty, juvenile law.
Kathleen Kim, faculty adviser, Loyola Immigrant Justice Clinic. Specialties: immigration law, human trafficking.
Laurie Levenson, David W. Burcham Chair in Ethical Advocacy, founder of the Loyola Project for the Innocent, former assistant U.S. attorney. Specialties: criminal law and procedure, wrongful convictions.
Jessica Levinson, director, Loyola Public Service Institute and former president, L.A. Ethics Commission. Specialties: election law, power of the presidency, Supreme Court.
Justin Levitt, former Deputy Assistant Attorney General, Civil Rights Division of the U.S. Department of Justice. Specialties: election law, redistricting, voter access.
Priscilla Ocen, member, L.A. County Sheriff Civilian Oversight Commission. Specialties: Critical race theory, gender and the law.
Jennifer Rothman, author, "The Right of Publicity: Privacy Reimagined for a Public World." Specialties: right of publicity, copyright.
Michael Waterstone, Dean. Specialties: disability rights, employment law.
Kimberly West-Faulcon, James P. Bradley Professor of Constitutional Law. Specialties: constitutional law, impeachment, presidential power, race & testing, Supreme Court.
Gary Williams, former assistant legal director, ACLU Foundation of Southern California. Specialties: civil rights, First Amendment, Freedom of Information.
Adam Zimmerman, Gerald Rosen Fellow. Specialties: class actions, opioid litigation.: class actions, opioid litigation.