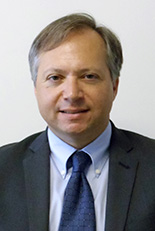 Summer Job Diaries: Thomas Scully Splices Entertainment Background with the Law at Writers Guild
Thomas Scully is a third-year student at Loyola, where he is television chair of the Entertainment and Sports Law Society. Before attending Loyola, he worked as an editor on features and scripted TV shows. He spent his summer serving as a legal intern in the legal department of the Writers Guild of America, West.
Q: How did you land the job?
A: I saw a notice in one of the campus emails circulated by the Career Development Center and re-circulated by the Entertainment and Sports Law Society. I applied during the fall of last year but did not receive an offer until this spring. As a labor union, the employer required compensation for full-time work, either in credits or pay, which was only feasible during the summer with SPIEP (Summer Public Interest Employment Program) funding. Some of my courses in the Entertainment Law Concentration, along with personal references, including one from a professor who has a history with that employer, were probably very helpful in putting my name at the top of the applicant pool.
Q: What was the most interesting part of your job?
A: I was invited to sit in on several confidential meetings with adversarial parties and their counsel. These were surprisingly informal and nothing like the tense legal battles we've seen on TV shows about lawyers. It was the personalities of the adversaries, and their attempt to convince the union that they were on the same side, that was the most revealing. Also fascinating was our own behind-closes-doors strategizing, again, relying less on legal argument than balancing the competing needs of member/clients.
Q: What was your most challenging assignment?
A: During the course of the summer I read over 90 arbitration awards, which are similar to judicial opinions, to develop an index for the department to locate authority for future controversies. Sifting through all these cases, some running to dozens of pages, and distilling them to a few sentences, was difficult but taught me a lot about the rules of the Minimum Basic Agreement.
Q: What new legal skill did you acquire during your time there?
A: I had an opportunity to represent the WGA in a default arbitration against a signatory producer. This assignment involved a thorough workup of the file, preparing evidence and interviewing the member. At the last minute the producer did appear, and I was permitted to continue the representation anyway, under attorney supervision.
Q: How have you been able to demonstrate your legal knowledge?
A: I was assigned some research memos on new and unsettled questions of law including Copyright Law, which I feel conversant in, after taking a course in it. Applying abstract legal theories to the practical needs of the WGA was probably the most intellectually satisfying aspect of the job.
Media Relations
CONTACT INFORMATION
Burns 126
919 Albany St.
Los Angeles, CA 90015