Delving Deep into Misdemeanors: Pulling the Veil Off an Overlooked World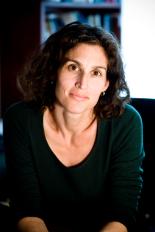 "Petty is the new big."
With one sentence, Professor Alexandra Natapoff summarized the thesis of her newest scholarly pursuit: examining the often-underappreciated area of misdemeanor crimes and the consequences of their disproportionately low profile convictions as compared to felonies.
"The criminal justice system often hides its most important workings under veils of secrecy and inattention, and misdemeanors are a perfect example of that phenomenon. In many ways, misdemeanors are where the action is in the American criminal-justice system." she said. "First of all, they constitute the vast majority of cases: We produce about 1 million felony convictions a year in this country, but 10 million misdemeanor cases are filed each year. Most Americans experience the criminal justice system through the misdemeanor process."
In her multi-article series, Natapoff has developed a comprehensive analysis of the powerful role that misdemeanors play in shaping the criminal system as a whole, and their profound implications for due process, accuracy, and racial equality.
"My first article entitled 'Misdemeanors' was an attempt to describe this process comprehensively, how it really works step by step -- from police stopping individuals to arresting them to processing them to the bail process, to what prosecutors do, all the way through the court process and punishment. I try to uncover this underappreciated aspect of American criminal justice," she said. "The piece then takes a step back and looks at the overall significance of this massive, underregulated piece of the criminal process."
Natapoff continues to explore the criminal system through the lens of misdemeanor cases and to look for ways to repair a seemingly broken system.
"My hope is to be part of an ongoing, deepening dialogue on this behemoth -- this misdemeanor process that affects so many Americans, that shapes the criminal justice in so many ways," she said. "Can we create a framework for reforming it, for understanding it, for deepening our appreciation of its role and relate it to the kinds of things that we demand of our criminal justice system? What does our criminal justice system need to look like for us to stand by it and be proud of it? And what do we need to change in the misdemeanor process in order for it to meet those standards?"
Misdemeanor Scholarship
Misdemeanors, 85 S. Cal. L. Rev. 1313 (2012): A comprehensive analysis of the petty offense process, its lack of due process, accuracy and its role in the racialization of crime. Winner of the 2013 Law & Society Association Article Prize.
Aggregation and Urban Misdemeanors, 40 Fordham Urb. L.J. (2013): Traces the influence of aggregation throughout the misdemeanor process and the erosion of the individualized model of criminal guilt

Gideon Skepticism

, 70 Wash. & Lee L. Rev. (2013): Challenges the ability of individual defense counsel to counter structural unfairness in misdemeanor cases

Misdemeanor Decriminalization

, 68 Vanderbilt L. Rev. 1055 (2015): Explores the promises and underappreciated pitfalls of this popular reform

Misdemeanors

, 11 Ann. Rev. L. & Soc. Sci. (2015): An overview of the field and theoretical issues.
Engaging the Public Discourse
As part of the broader criminal justice dialogue, Natapoff presents her work at conferences and events throughout the year. For example, as a Scholar-in-Residence at NYU during the summer of 2012, she organized a multi-disciplinary "Misdemeanor Roundtable" for academics and practitioners. In addition to faculty workshops at numerous schools, her misdemeanor-related presentations include:
Organizer/moderator, "Misdemeanor Roundtable," NYU School of Law, Center on the Administration of Criminal Law (July 2012); this multi-disciplinary conference included scholars from six New York-area law schools as well as advocates from the Brennan Center, Human Rights Watch and the Center for Constitutional Rights
Presenter, Cooper-Walsh Colloquium, "Legitimacy and Order: Analyzing Police-Citizen Interactions in the Urban Landscape," Fordham Law School (October 2012)
Presenter, "Gideon at 50: Reassessing the Right to Counsel," Washington & Lee School of Law (November 2012)
Paper presenter, University of Chicago Criminal Justice Roundtable, University of Chicago School of Law (April 2013)
Plenary speaker, AALS Criminal Justice Conference, San Diego, CA (June 2013)
Gideon's Promise and Peril: Meeting the Mandate for Indigent Defense, Charles Hamilton Houston Institute for Race & Justice, Harvard Law School, Oct. 11, 2013
Discussant, Misdemeanors: Racial Coercion and Net-widening at the Bottom of the Criminal Justice Pyramid, Law & Society Annual Conference, Minneapolis, MN, May 31, 2014
Featured Speaker, Misdemeanor Punishment & the Power of Fines, University of Oregon, Portland, OR, April 24, 2015
Presenter, Misdemeanor Decriminalization, Law & Society Annual Conference, Seattle, WA, May 30, 2015
Media Relations
CONTACT INFORMATION
Burns 126
919 Albany St.
Los Angeles, CA 90015
In Her Words
Professor Natapoff at Harvard Law School on misdemeanor representation.