Off the Shelf
Reporting on the legal system without a law degree can be challenging. A team of Loyola Law School professors aimed to fix that by writing The Journalist's Guide to American Law. The book serves as an essential reference for journalists whose coverage area includes the law.
Newsroom
Experts Guide
Professor Laurie Levenson, a former federal prosecutor, can comment on the criminal charges filed against embattled comedian Bill Cosby.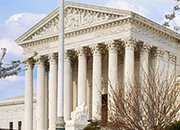 Commentary Alerts
Loyola Law School, Los Angeles professors are available to discuss a range of cases to be heard in the current U.S. Supreme Court session.
Journalist Law School
Loyola's Journalist Law School, a four-day legal bootcamp for reporters, editors and producers, will be held June 8-11, 2016. Apply now!
Journalist Resources
Loyola is home to a wealth of world-class legal resources, including:
-Research tools via the library
-Law review articles on ripped-from-the-headlines topics such as the cost of capital punishment and paparazzi laws (articles are available for download to mobile devices)