Off the Shelf
Reporting on the legal system without a law degree can be challenging. A team of Loyola Law School professors aimed to fix that by writing The Journalist's Guide to American Law. The book serves as an essential reference for journalists whose coverage area includes the law.
Filming on Campus
News crews are frequent guests at Loyola. Pictured above: An episode of The Tavis Smiley Show, "Courting Justice," was filmed in Loyola's Robinson Courtroom. Journalists are invited to contact Loyola's Media Relations team for arrangements.
Newsroom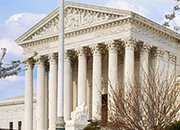 Experts Guide
Loyola Law professors are available to comment on major SCOTUS 2016 opinions: Fisher v. UT (affirmative action in admissions), U.S. v. Texas (immigration), McDonnell v. U.S. (political corruption) and more.
Election 2016
Loyola professors are available to comment on top party convention platform issues. See our Election 2016 Commentary Guide for more expert analysis.
Summary Judgments blog
Loyola's faculty blog, Summary Judgments, publishes faculty commentary on legal issues in the news, as well as reviews of books and updates on amicus briefs.
Journalist Resources
Loyola is home to a wealth of world-class legal resources, including:
-Research tools via the library
-Law review articles on ripped-from-the-headlines topics such as the cost of capital punishment and paparazzi laws (articles are available for download to mobile devices)