Online Community
*case sensitive
Submit Alumni News
‌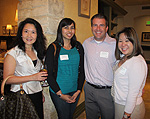 Alumni Relations
Welcome Alumni!
The Alumni Department is part of the Advancement Office which is responsible for: (1) fundraising efforts for student scholarships and Law School programs and centers, (2) coordinating alumni events and (3) maintaining communications between alumni and the Law School.
The Alumni Office is your one stop connection to your classmates, faculty and your alma mater. We provide a number of benefits and services.
Send us your news (new job, promotion, retirement, etc.) for print and online. We are always happy to hear from you.
Sign up for an alumni event. Reconnect with classmates, faculty and meet new members of the alumni community.
Volunteer to be a mentor, serve as a judge or coordinate your class reunion.
Read about leading programs, centers and alumni in the spotlight.
Find out about your benefits and services as a member of the Alumni Association.
Update your contact information (personal & business) current through Loyola Connect (online alumni community).
Sign up to receive paperless communications. Receive event invitations, publications and law school updates electronically.
Read about your classmates' job moves and promotions, and their professional achievements, in Class Notes.
We look forward to hearing from you and seeing you at our next event.
---
Make A Gift!
Alumni and friends of Loyola Law School can make a gift and designate the gift in support of a variety of programs. Your gift is tax deductible to the extent allowed by the law. Gifts will receive a letter of appreciation that can be used as your receipt. Gifts to the Law School will be recognized in the annually published Honor Roll of Donors. Make a gift online now!