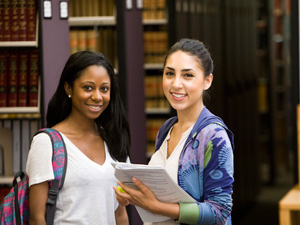 Transfer Students
How to Apply
All application materials must be received by the transfer deadline, except the law school transcript and a letter of good standing. A letter of good standing and law school transcripts must be submitted as soon as first year grades are available.
Transfer applicants bear the responsibility of ensuring that all transcripts are forwarded by the original school in sufficient time for review. Decisions on completed files are made beginning in late July.
Application for Admission
We prefer applicants to use the electronic application via LSAC. You may apply using a paper application; however, please note that there is a considerable processing delay with paper applications. For those requiring a paper application in Microsoft Word format, please contact the Office of Admissions directly.
Timeline
May 15, 2014 - Transfer Applicants may begin the application process using the LSAC E-app. [Please do not submit an application to transfer before this date.]
June - August 2014- Transfer decisions will be made. Only complete files will be considered.
July 31, 2014 - Transfer Application Priority Deadline (Applications submitted after this date will be considered as space allows.)
August 2014 - Orientation for transfer students.
CAS Report
An updated copy of the final Credential Assembly Service (CAS) report must be sent directly to the Office of Admissions from the Law School Admission Council.
Official Transcripts
An official law school transcript must be sent directly to the Office of Admissions from the Registrar of your law school. The transcript should include grades for all course work completed in the fall and spring semesters. Law school transcripts sent directly through LSDAS are not considered official.
Please note: If an applicant has been offered admission, no credit will be transferred to the student's record at Loyola for courses in which the student received a grade of less than 75 or lower than a "C," or for courses which do not meet equivalent unit requirements, or for courses taken at non-ABA accredited institutions.
All units from the applicant's original institution will be transferred as "pass" and will have no bearing on the student's Loyola grade point average. A maximum of 29 transferable units will be applied towards the unit requirement for graduation. A minimum of 58 units must be completed at Loyola for all transfer students.
Letter of Good Standing and Class Rank
An official letter of good standing, including fall and spring semester grades, must be sent directly to the Office of Admissions from the Registrar or Dean of Students of your law school. A letter or memo indicating class rank should also be sent if this information is not included in the letter of good standing or on the law school transcript. Fax transmissions are not acceptable.
Personal Statement
A personal statement is required and assists the Admissions Committee in selecting a diverse entering class. It is also used to assess each applicant's written English skills. The personal statement provides each applicant with the opportunity to describe the uniqueness of his or her character, abilities and experience. Transfer applicants may discuss their first year of law school and their reasons for seeking to transfer.
Disclosures
Applicants must answer questions #1-6 on the "Disclosures" section of the application. Applicants who answer "yes" to questions #2-6 on the "Disclosures" section must provide a written explanation for their response. Applications with "yes" responses that do not provide written explanations are considered incomplete and will not be reviewed.
Office of Admissions
OFFICE HOURS
M-Th: 9 a.m.-6 p.m.
F: 9 a.m.-4 p.m.
CONTACT INFORMATION
Founders Hall 154
919 Albany St.
Los Angeles, CA 90015