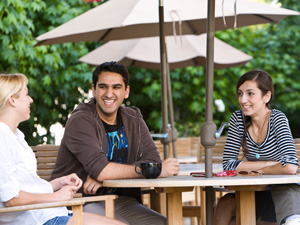 JD/MBA Program
Loyola Law School and the Graduate Program of the College of Business Administration of Loyola Marymount University (LMU) offer a dual degree program in law and business. Graduates of the program receive the Juris Doctor degree (JD) from the Law School and the Master of Business Administration (MBA) from Loyola Marymount University.
The International Master of Business Administration program may also be completed concurrently with the Law School curriculum. A Graduate Certificate in International Business will be awarded with the MBA.
The dual degree program provides for the achievement of both degrees in four years instead of the five normally required to complete the degree programs separately. Students in the dual degree program must complete the first year law curriculum in the normal manner before taking business courses beginning in the second year. The program is only open to full-time day students. Students may be allowed to count up to 12 units of business classes towards the 87 units required to earn a JD and may be allowed to count up to 12 units of law classes towards the 54 units required to earn an MBA.
To apply for the JD/MBA program, review these application instructions.
Office of Admissions
OFFICE HOURS
M-Th: 9 am-6 pm
F: 9 am-4 pm
CONTACT INFORMATION
Founders Hall 154
919 Albany St.
Los Angeles, CA 90015