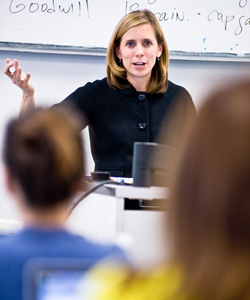 Tax LLM Program
Inaugurated in 1999, Loyola's Tax LLM Program is ranked among the top 10 graduate tax programs in the United States according to U.S. News. Ours is different from other Tax LLM programs in important regards.
Loyola's Tax LLM program is not expected to subsidize our JD program. This allows us to be extremely selective in admissions, keep our classes small, and offer unusually high quality instruction.
Facts that matter:
As a result, our Tax LLM program is now even more selective than our JD program. We believe this to be unique among Tax LLM programs.
Our Tax LLM students have numerous opportunities to develop practical tax problem solving skills so they are ready to hit the ground running when they start practice. In addition to substantive tax law, our students learn how to perform tax research and how to use Excel spreadsheets for tax analysis. They also practice drafting, structuring and presenting to clients in several experiential learning courses and clinics.
Average enrollment in required classes is 16; in electives, 10.
The quality of our student body and small class sizes have also enabled us to attract some of the best advanced tax instructors available anywhere; most are nationally recognized experts in their fields.