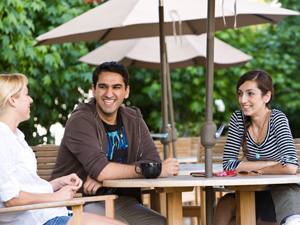 JD Evening Program
The Evening Division Program is geared to those students who either work full-time or who find the evening program more conducive to the schedules which governs their lives.
Our evening students come to us with an extremely broad range of educational and professional experiences, which not only enriches the classroom experience but adds significantly to the law school dynamic. Evening students also have the opportunity to participate in the various extracurricular activities and student organizations available on campus.
Loyola's Evening Division is one of the largest, most highly regarded programs of legal education in the United States. The Law School has a long-standing commitment to excellence in both the Day and Evening division programs. To maintain consistency, required courses are taught in both programs by full-time faculty. In addition, Loyola attracts members of the federal and state judiciary and some of the finest local experts in specialized areas of the law to teach elective courses in the Evening Division (these courses are also open to day students in the upper division). And, Loyola's Evening Division alumni are among the most successful and prominent members of the legal profession - ascending to high ranks in business, government and the judiciary.
The first and second years of the evening program have required courses consisting of classes Monday-Thursday beginning no earlier than 6:00pm and ending no later than 10:00pm. After the first year, evening students are free to design the perfect schedule to fit their needs. Students may take a mix of either evening and day-time elective courses or continue to take evening only courses. Either way, the choice is up to you.
Specialty Areas
Whether you have an established career or are not quite sure what path you want to follow, Loyola offers a number of specialty areas to suit your needs.
If you've been working at a movie studio, talent agency, or record label for a number of years and want to empower yourself to move up within your organization, our entertainment law specialty will help. Or if you have experience in aerospace or biotechnology, our broad-based Intellectual Property specialty allows you to enhance the skill-set you have already developed.
Ranging from Civil Litigation to Taxation, Loyola offers over a dozen different legal specialties to enhance your professional experience. The evening program has the added benefit of attracting practicing attorneys, working in our specialty areas. After a day at the office, they use their expertise to educate and inspire our students.
Just as the breadth of our offerings is advantageous to those with a clear career path, it is equally beneficial to those without. The sheer number of courses we offer in conjunction with our specialties provides a broad-based legal education. Students are free to decide not to declare a specialty – they can sample courses from a variety of areas.
Should you choose law school, Loyola's evening program offers the breadth or the focus to enhance your professional development and transform your life.
Academics
First Year Curriculum (Evening)
Contracts
Legal Research & Writing
Property
Torts
Second Year Curriculum (Evening)
Civil Procedure
Constitutional Law
Criminal Law
Third Year Required Courses (Evening)

Ethical Lawyering
Evidence
Upper Division Required Courses (Evening)
A Breadth Course
Upper Division Writing Requirement
Pro Bono Graduation Requirement
Student Life
A sprawling metropolis with much to offer, Los Angeles is home to a diverse population. Many students find it advantageous to be in this central hub, only minutes away from major courts and law firms as well as fabulous nightlife, dining and entertainment. Additionally, transportation centers in downtown make commuting from any part of Los Angeles (beaches, mountains, Hollywood) a viable option. And don't forget about the pleasant year-round weather! Loyola students take full advantage of this vibrant community, whether at school, work or play.
Office of Admissions
OFFICE HOURS
M-Th: 9 am-6 pm
F: 9 am-4 pm
CONTACT INFORMATION
Founders Hall 154
919 Albany St.
Los Angeles, CA 90015