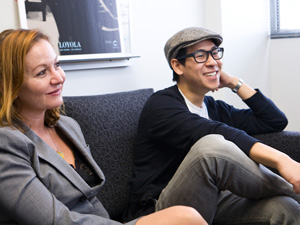 Entertainment Law Practicum
Interested in working for some of the leading entertainment companies in Los Angeles?
Loyola's Entertainment Law Practicum takes you behind the scenes of celluloid and digital magic at such media giants as Home Box Office (HBO), MGM-UA Studios, Paramount Pictures, Universal Music Group, Warner Brothers Television and Yahoo.
Students obtain positions in the legal departments of companies in most branches of the entertainment and media industries, from the largest studios to independent production companies, and in law firms with entertainment and media practices. They are permitted to earn credit for a combination of their internship work and completing a course component focusing on important aspects of the practice of law in the entertainment and media industry context, and a paper regarding their internship.
Who is eligible to participate?
LLS students in academic good standing are eligible to participate after completion of their first year of law school. Students seeking to intern during the summer after their first year are advised that academic performance (e.g., Fall semester mid-term and mid-year grades) will be considered in determining whether they may participate.
Students are only able to take the course once. Thus, they may wish to undertake an internship when they are upper division students to enable them to maximize their experience.
How many units can a student receive? How many hours must a student work?
This is a 2-unit pass/fail program, the course component of which is generally offered in the spring semester of each year. In order to qualify for credit, a student must work a minimum of 56 hours (unpaid, of course). A student may apply unlimited number of hours of work, but will qualify only for the same number of units (2). The student is permitted to work these hours either during the Spring semester when s/he takes the course component, or prior to that semester.
Students must record their hours using the timesheet form available for downloading on the ELP website. This form will indicate the hours worked (at least the minimum 56) and must be signed by a supervisor. The student must retain the timesheets and give them to the ELP professor at the end of the course component.
What else must a student do to receive academic credit?
In addition to the work hours, the student must satisfactorily complete the course component. Generally, the course meets in the Spring semester of each year. It meets for two hours, approximately every other week (i.e., there are generally 7 required class sessions). Attendance at all course sessions is mandatory. If a student misses more than one class session, s/he is not entitled to credit.
There is also a written assignment. In recent years, this has been a minimum 15 page paper, generally about what the student did and what s/he observed and learned about the practice of law in an entertainment industry practice from his/her internship. This is not a daily journal or a collection of work products, but rather a thoughtful essay about the practice of law in the context the student worked. Interns are encouraged to interact and speak with attorneys in their workplace to learn more about what they do, what skills are important, what problems they encounter, etc. Because a paper will be required, students working their internships in a semester (or summer) prior to the course should keep notes about what they did, observed and learned, to help refresh recollection in order to write the paper.
See the ELP website for a prior year's syllabus for the course component and more information about the course component, although these, of course, are subject to change.
How do I get an internship?
Students are responsible for obtaining their own positions that qualify for credit. A chart showing places students have worked previously is available on the ELP website (only from an on-campus server, however). In addition, as internship employers notify the director of the ELP of current positions and interviewing, the opportunities are posted to the site, and notification sent to the Entertainment and Sports Law Society (ESLS) and the Entertainment Law Review. A number of notices are posted on Prof. Dougherty's office door (Burns 344), and he and other professors sometimes announce current opportunities in class. Sometimes new notices are placed in In Brief.
Students can build and use their own networks for potential internships. The primary requirement is that the internship must involve a substantial component of legal type work under legal supervision (e.g., will not be primarily a clerical or administrative position). If the internship is at an organization that has not previously used LLS ELP interns, then the student should speak with the director of the ELP, currently Prof. Dougherty or Prof. Barbara M Rubin, so that s/he may confirm that the position meets the required standards.