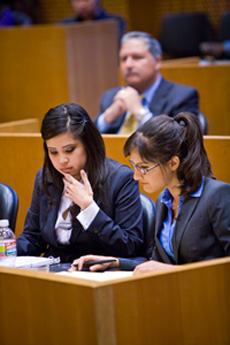 Byrne Trial Advocacy Team
The Byrne Trial Advocacy Team is a nationally ranked competitive mock trial team where talented second-, third- and fourth-year students have the rare opportunity to receive extensive, individualized training in all aspects of trial advocacy. Students earn six units for the first year on the team and four units for subsequent years. Each year, team members are selected based on an intramural competition held at the end of the spring semester.
Team members represent the school in a series of regional and national mock trial competitions including the National Trial Competition, the AAJ Student Trial Competition and the NITA Tournament of Champions.
Loyola's teams have garnered great success in these tournaments, winning 21 out of the last 26 regional tournaments and nine national championships. The tournaments involve both civil and criminal cases; students are trained to conduct all aspects of a jury trial including opening statement, direct examination, cross examination and closing argument, as well as evidentiary arguments to a judge.
Loyola's Byrne Trial Team has received top honors in recent years:
Numerous alumni members named to the Southern California Super Lawyers "Rising Stars" list
Regional Champions 21 times, Texas Young Lawyers Association National Trial Competition
National Champions in 2005 and 2006, Texas Young Lawyers National Trial Competition
Six-time Regional Champions, American Association of Justice (AAJ) Student Trial Advocacy
Faculty Adviser: Susan Poehls