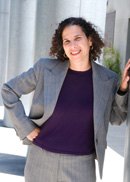 Jennifer E. Rothman
Professor of Law
Joseph Scott Fellow
AB, Princeton University
MFA, University of Southern California
JD, University of California, Los Angeles
Background
Jennifer E. Rothman is Professor of Law and the Joseph Scott Fellow at Loyola Law School, Los Angeles. She joined the Loyola faculty from Washington University in St. Louis, where she was an Associate Professor of Law. Professor Rothman teaches courses in the areas of Trademarks and Unfair Competition, Copyright, Intellectual Property Theory, Free Speech, Torts and the Right of Publicity.
Professor Rothman researches and writes primarily in the areas of intellectual property and constitutional law. She has published numerous articles, including topics such as the consideration of the use of custom in intellectual property; the inalienability of rights of publicity; the use of substantive due process analysis to evaluate uses of copyrighted works; the treatment of sex in intellectual property law; the conflicts between copyright and right of publicity law; the move away from the confusion requirement in trademark law; and the true threats doctrine in First Amendment jurisprudence. Her work regularly appears in top law reviews and journals, including Cornell Law Review, Georgetown Law Journal, Virginia Law Review, Harvard Journal of Law & Public Policy and the Stanford Law & Policy Review. Professor Rothman is nationally recognized as a leading scholar in the intellectual property field and has been invited to speak on the topic at a variety of esteemed institutions, including Columbia, Stanford, University of Chicago, University of Pennsylvania, U.C. Berkeley and UCLA.
Rothman is an elected member of the American Law Institute and serves as a member of the consulting groups for the Restatement (Third) of Information Privacy Principles and the Restatement (Third) of Intentional Harms to Persons. Professor Rothman also serves on several ABA Committees, including the Trademark Legislation Committee, for which she is the Chair of the Fashion Design Subcommittee.
Rothman received her A.B. from Princeton University where she received the Asher Hinds Book Prize and the Grace May Tilton Prize for her senior thesis on Strategies for Making Films from Written Fiction. Rothman received an M.F.A. in film production from the University of Southern California's School of Cinematic Arts, where she directed an award-winning documentary. Rothman then worked in the film industry for a number of years, including positions at Paramount Pictures and Castle Rock Entertainment.
Rothman received her J.D. from UCLA, where she graduated first in her class and won the Jerry Pacht Memorial Constitutional Law Award for her scholarship in that field. Rothman served as law clerk to the Honorable Marsha S. Berzon of the United States Court of Appeals for the Ninth Circuit in San Francisco and then practiced as an entertainment and intellectual property litigator in Los Angeles at Irell & Manella.
Selected Scholarship
"Copyright's Private Ordering & 'The Next Great Copyright Act,'" __ Berkeley Tech. & L.J. __ (2014) (forthcoming).
"Custom, the Common Law and Intellectual Property," in Intellectual Property and the Common Law (Ed. Shyamkrishna Balganesh) (Cambridge University Press 2013)
"The Inalienable Right of Publicity," 101 Georgetown Law Journal 185 (2012)
"Sex Exceptionalism in Intellectual Property," 23 Stanford Law & Policy Review 119 (2012)
"Best Intentions: Best Practices Statements for Fair Use," 57 Journal of the Copyright Society of the U.S.A 371 (2010)
"Liberating Copyright: Thinking Beyond Free Speech," 95 Cornell Law Review 463 (2010)
"Sex In and Out of Intimacy," 59 Emory Law Journal 809 (2010) (co-authored with Laura A. Rosenbury)
"Custom, Comedy and the Value of Dissent," 95 Virginia Law Review In Brief 19 (April 2009)
"Why Custom Cannot Save Copyright's Fair Use Defense," 93 Virginia Law Review In Brief 243 (2008)
"The Questionable Use of Custom in Intellectual Property," 93 Virginia Law Review 1899 (2007)
"Initial Interest Confusion: The Diversion of Trademark Law," in Intellectual Property and Information Wealth (ed. Peter Yu, Praeger 2006).
"Initial Interest Confusion: Standing at the Crossroads of Trademark Law," 27 Cardozo Law Review 105 (2005).
"Copyright Preemption and the Right of Publicity," 36 UC Davis Law Review 199 (2002).
"Freedom of Speech and True Threats," 25 Harvard Journal of Law and Public Policy 283 (2001).